14 Oct 2016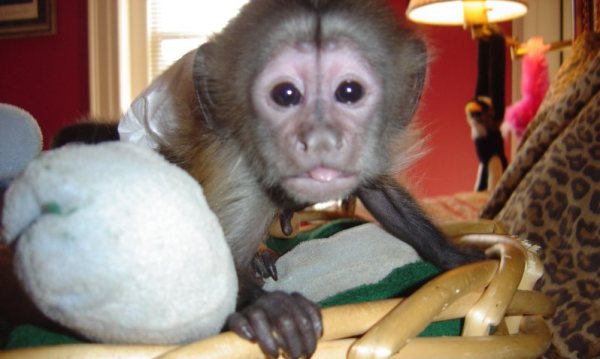 Exotic animals are indeed interesting and attractive to care of but the only problem is the violation of the pet's natural living environment. Since they were born, they are already separated from their parents as well as exposed to an environment they don't actually live, which is very unhealthy for them. These made monkeys prevent themselves from developing as they should. That's why taking care of them would give you different factors to consider.
Here are some of the points you should know and consider in petting a monkey:
- Since monkeys are separated from its mother, you should expect that they would manifest signs of depression as well as symptoms of psychological maladjustment. This would only make your pet unsatisfied for the care you're giving, but take note that this is just a part of his or her adjustment. As a response to this, you must provide him or her both physical and psychological needs football. You can do this by research as well as deep observation of the monkey's typical behaviors and responses.
- Avoid giving the monkey unsuitable and uncomfortable cage to stay in. It could worsen his or her condition. It must be secured and spacious. If possible, it is better to give him a companion of the same kind. And of course, you must make his or her environment good representation of real nature. There are some cages sold in pet stores but these cages are mostly inappropriate for monkeys, especially of younger ages. That's why it's better to make your own mimicry.
- Like other pets, monkeys also have particular needs for foods and nutrients. It may depend on the breed but would usually include foods rich in protein. You could give him or her flowers, fruits, veggies, insects, bugs, grasshoppers, and nuts for food. These are the ones that he or she would likely prefer than other foods. If you are not sure of the foods suitability for the monkey, don't risk and feed it to your pet. All pets have great sensitivity when it comes to food. This could cause health problems you wouldn't want him or her to have.
- Monkeys are observed to be more risky carrier of diseases that humans can acquire. As a response, you must make sure that your monkey is provided with necessary vaccines and checked by veterinarian regularly. It may be expensive but would be safer for both of you. Also, facing financial needs for check up is one great requirement for any exotic pet monkey owner.
Petting and caring a monkey, which is an exotic animal, would require you to enter a big commitment. You must be sure that you would be able to provide their needs, both emotionally and physically. Also, keep in mind that these animals have longer life span, which means longer commitment. You must be prepared of the responsibilities and you must be sure that you could provide it appropriately. If not, it is better to give the responsibility to nature rather than making your pet cared incorrectly.